Sonia Kéfi
CNRS research director

Chair of the departmentCHANGE
External Professor atSFI
Email:sonia.kefi (at) umontpellier.fr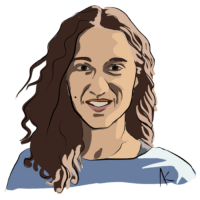 I am a researcher at theCNRSbased in theBioDICée teamat the Institut des Sciences de l'Evolution de Montpellier (ISEM), France.
In an era of global change, my research aims at understanding how ecosystems persist and change under pressures from changing climate and land use. What makes ecosystems resilient to changes and what makes them fragile?
I combine mathematical modeling and data analysis to investigate the role of ecological interactions (in particular facilitation) in stabilizing and destabilizing ecosystems, but also to develop indicators of resilience that could warn us of approaching ecosystem shifts.
Research
Current post-docs and Ph.D.s
Selected publications
Kéfi, S., C. Saade, E. L. Berlow, J. S. Cabral, E. A. Fronhofer. 2022. Scaling up our understanding of tipping points. Philosophical transactions of the Royal Society B. 377: 1857.https://doi.org/10.1098/rstb.2021.0386
Pilosof, S., Porter M.A., Pascual M.,Kéfi S.2017. The multilayer nature of ecological networks.Nature in Ecology and Evolution. 1:0101
Kéfi*, S., V. Miele*, E.A. Wieters, S.A. Navarrete, E.L. Berlow. 2016. How structured is the entangled bank? The surprisingly simple organization of multiplex ecological networks leads to increased persistence and resilience.PLOS Biology. DOI:10.1371/journal.pbio.100252*These authors contributed equally to the study
Kéfi, S., E. Berlow, E. Wieters, S. Navarrete, O. Petchey, S. Wood, A. Boit, L. Joppa, K. Lafferty, R. Williams, N. Martinez, B. Menge, C. Blanchette, A. Iles, U. Brose. 2012. More than a meal… Integrating non-feeding interactions into food webs.Ecology Letters. 15(4):291-300
Kéfi, S., V. Guttal, W.A. Brock, S.R. Carpenter, A.M. Ellison, V. Livina, D.A. Seekell, M. Scheffer, E.H. van Nes, V. Dakos. 2014. Early Warning signals of ecological transitions: Methods for spatial patterns.PLoS ONE. 9(3):2097

Kéfi, S., M. Rietkerk, M. van Baalen, M. Loreau. 2007. Local facilitation, bistability and transitions in arid ecosystems.Theoretical Population Biology. 71(3):267-400
Kéfi, S., M. Rietkerk, C. L. Alados, Y. Pueyo, A. ElAich, V. Papanastasis, P. C. de Ruiter. 2007. Spatial vegetation patterns and imminent desertification in Mediterranean arid ecosystems.Nature. 449(7159):213-217 
All publications